5 June marks World Environment Day. Established by the United Nations (UN) almost 50 years ago in order to bring awareness and action towards environmental protection, today it serves as another reminder that our everyday choices have an impact on our natural world. When it comes to our daily purchases, that couldn't be truer.
The power of sustainable banking
When we swipe or tap our debit or credit card, we're using money to buy what we need. What does that money do when we're not using it? Banks lend out the money and finance people, projects, and businesses. Normally, we have no idea where our money goes.
What we do know is the money in our bank accounts can do so much more. It can finance sustainable businesses and projects –reduce CO2 emissions and invest in renewable energy. It can also improve diversity and inclusion – invest in people who had been previously excluded from the financial sector and help grow the economic power of communities.
The money in our bank accounts can be a force for powerful change made possible with sustainable banking.
Creating value with finance
Every decision made by sustainable banks is aligned with the value they want to create in society. The debit, credit and lending services they deliver ultimately serve their communities. To do that requires ingenuity. Thinking outside the box to address real issues, like a worldwide plastic problem or the decreasing number of small businesses. In pursuit of innovation, leaders in sustainable banking and members of the Global Alliance for Banking on Values (GABV) have launched innovative debit and credit cards. Connecting us to environmental or societal impact through our daily purchases and reminding us that every day, we can make a difference.
Credit and debit cards made with renewable resources
Some of these independent, values-based banks have launched new debit and credit card initiatives focusing on reducing waste and CO2 emissions.
Amalgamated Bank's Climate Impact Debit
Every new credit or debit card created uses CO2 in the production process. On top of it, the plastic materials used end up in a landfill or in the ocean once the card is no longer needed. To solve two problems with one solution, Amalgamated Bank – a fossil-free bank in New York, USA – has created a debit card that replaces up to 80% of fossil-based plastics found in traditional debit cards by using renewable resources such as corn. In using renewable resources, they've also minimized the CO2 generated in new card production.
GLS Bank issues the first plastic-free wooden card
GLS Bank in Germany has introduced wooden bank cards made of 90% wood and 10% paper. The maple used is from FSC-certified cultivation in Switzerland, Germany and EU countries. The wooden bank cards are currently being introduced to a test group (1,000) to improve the practicality of the product before launching it to a larger audience.
G&C Mutual Bank's launch of recycled PVC debit and credit cards
G&C Mutual Bank in Sydney, Australia, is looking at sustainability not only in terms of lending, but also in overall service –the types of cards they use and the packaging they come in. Their debit and credit cards are made from 82% recycled PVC, using post-industrial waste sourced from Europe, and the card carriers are made from 100% recycled paper and packaged in 100% biodegradable envelopes. With the launch of the cards, G&C also emphasises transparency when communicating what the cards are made of and how they're working towards continuous improvement in recycling and sustainability.
Triodos Bank's focus on reducing waste with their debit card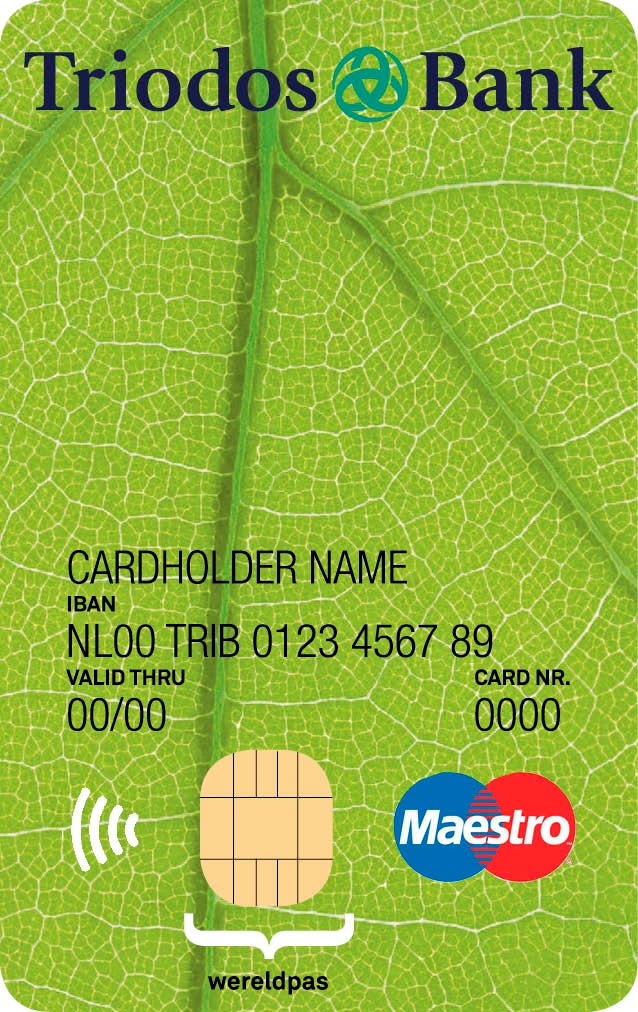 Triodos Bank is the largest values-based bank in Europe, operating in The Netherlands, Belgium, UK, Spain and Germany. For more than three decades, the Bank continues to innovate by always looking at social and environmental added value. The branches in Spain, NL, and the UK offer debit or credit cards that are made from biodegradable material.
In the Netherlands, the card is made from durable recycled PVC material. In Spain, their debit and credit cards are made from 86% biodegradable material, reducing the metals that are extracted from the ground and remade into the card. In addition, to decrease the amount of waste generated, they promote proper disposal of the card once it's no longer in use: by taking it to a specified collection point or sending it back, and Triodos Bank then sends it to a specialised waste manager.
Track your CO2 with a credit card from Vancity
Canada's largest community credit union, Vancity, has grown a community of changemakers with more than 560,000 member-owners. For them, every account holder has an opportunity to make a change. Cardholders are no different.
Every Vancity credit cardholder can track their estimated carbon emissions of their credit card purchases through a tracker. They can see their overall carbon total and even compare it to the national average, prompting them to make more informed choices with each purchase. Also, every year, 5% of enviro Visa card profits go to environmental initiatives through the Vancity enviroFund™ programme.
Support climate-related nonprofits with Beneficial State Bank
Beneficial State Bank, in Oakland, USA, offers three options of Visa credit cards that allow customers to connect their values to their purchases. With the Climate Card, customers can earn 1 point for every dollar spent and redeem points, among others, for charitable donations to pre-approved nonprofit organizations that work for the environment.
Cards that support social organizations
In pursuit of innovation and social impact, some values-based banks offer credit or debit cards with an added social value.
MagNet Bank supporting NGOs
Customers in Hungarian MagNet Bank can support an NGO with every bank card purchase via Mastercard Helping Bank Card. For every purchase, MagNet Bank automatically donates to the NGO of choice. MagNet Bank also donates 10% of their total profits to social organisations.
Banca Etica promotes social
Showing commitment to both their members and local community, Banca Etica, in Italy, launched a credit card where contributions go towards social organisations, campaigns, or non-profits. Every time a customer uses their card, a portion of the amount is set aside for an initiative of their choosing.
Verity Credit Union boosts local businesses
With small businesses decreasing in numbers, Verity Credit Union in Washington State, USA, looks to promote small businesses through its Signature Rewards Visa®. The Credit Union takes a percentage of all purchases and transaction fees and invests them back into local community projects, even offering microgrants to improve community well-being.  
Kindred Credit Union supports charitable organisations

Each year Kindred donates to the Kindred Charitable Fund based on members' use of their Collabria Mastercards. The Kindred Charitable Fund has distributed $1.34 million in support of charitable organizations since its inception in 1999. A total of 163 groups have benefited from these grants, helping to inspire peaceful, just, and prosperous communities across Ontario, Canada.
Banco Solidario's launches a social credit card for micro-entrepreneurs
Banco Solidario's "Alia Mi Social" is the first credit card in Ecuador developed for micro-entrepreneurs with the objective of providing them with access to financial products – complementary to credit – that help them meet their business and personal needs. In addition, it offers differentiating attributes designed with their reality and their families in mind:
Training courses: Access to more than 1,200 courses free of charge, thanks to an alliance with the edtech company Crehana. The platform offers courses in financial education, finance for micro-entrepreneurs, marketing for small businesses, sales through digital media, etc.
Relief in difficult times: The card allows access to cash advances in addition to the card's quota, free of charge, to meet business or personal financial needs.
Redeem points for cash: Consumption accumulates points that can be exchanged for prizes from a catalogue – designed according to the preferences of microentrepreneurs – or for cash.
Your purchases and the broader impact
Like we said, our money can do more. But change requires bold steps in all aspects of finance – from services to cards to internal procedures – and constant innovation. By banking more sustainably, we choose to use our money differently with every purchase.